Colombia: From Summit to Jungle to Sea
Colombia is an evocative country full of surprises. The natural beauty, the flora and fauna, the mountains and the jungles and the seashores, the gracious people, and the excellent cuisine combine to make this one of the most attractive and lightly visited destinations very close to home.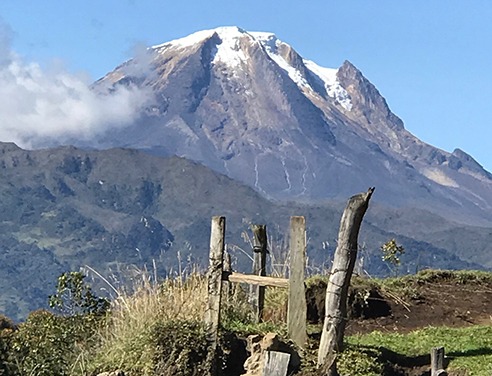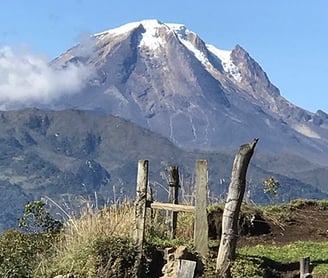 There are 500 species of mammals in Colombia, and 1,700 species of birds, more than any other country, almost 20% of all birds on earth. Accompanying us throughout will be my old friend Rodrigo Arias, a famous Colombian mountain guide with a deep love and understanding of his country.
This will be a wide-ranging journey into the heart of this re-emerging nation. We'll tour Bogota, the capital, with its fascinating museums and mountaintop viewpoints. Overnighting both in isolated farms and in tents, we'll trek 9 days through the remote Paramo landscape whose flora and fauna is unique to this region. We'll climb two tall Andean mountains that give views over other active volcanoes nearby. We'll explore the Guaviare, an Amazonian region little-known until a recent National Geographic article drew attention to it, newly famous for the pre-Colombian artwork painted on the rock walls of local mountains. While in the rainforest we'll also witness endemic birds, mammals, and dolphins in their natural settings. All in all, this will be a surprising and fascinating journey through a country still emerging to the outside world.
January 23 — We'll drive 40 minutes to La Punta, at 10,000', to start our trek. With pack animals carrying our gear, we'll hike 4 hours across the Paramo, the fascinating alpine ecosystem unique to Colombia, and arrive at Finca Vancouver at 11,500', where we'll spend the night in basic but clean farm rooms.
January 24 — Hike five hours across the rolling Paramo terrain with its unusual plants and endemic birds. Here we'll camp in tents on grass at the foot of impressive Volcan Tolima next to the hot springs at Termales de Canon, at 13.000'. A dip in the expansive hot pool will help sooth our aching muscles. Andean condors nest in the crags overhead.
January 25 — Today we hike up to our Volcan Tolima Base Camp, leaving vegetation behind as the sandy rocky trail winds its way through volcanic outcrops. Camp in tents at the foot of the climb at 14,800'.
January 26 — Starting pre-dawn, we'll slowly climb the sandy trail on the approach the walls of majestic Volcan Tolima. The climb begins with a circuitous route among rocky steps where we'll rope up. The climbing is not difficult, but the rope will keep everyone safe. At about 16,500' we'll step onto the glacier which is almost crevasse-free. Still roped up, we'll climb to the summit at 17,150'. After our celebration we'll retrace our route to camp, then descend to Valle de Placer at 12,000' to camp in pleasure.
January 27 — Today we'll take a relaxed start in this lovely setting. A three-hour walk over up-and-down terrain by bubbling creeks and grassy hillsides brings us to Finca el Aguila at 12,200'. We'll sleep in basic but comfortable beds at the farm and eat local cuisine cooked at the unique Colombian hearth.
January 28 — A stiff 6-hour walk climbs out of the valley and up to the alpine region at the base of Volcan Santa Isabel. This is an exciting hike that traverses beneath the mountain and offers many scenic viewpoints. Camp among the tarns and streams fed by Santa Isabel's glaciers and snowfields. Our acclimatization is enhanced by these days at higher altitudes.
January 29 — With another pre-dawn start we'll head out for Santa Isabel's summit. There is no trail because few people climb this mountain, adding to our appeal. The non-technical ascent winds among rock outcrops, on grass and scree, leading to a dramatic 16,236' summit few others have achieved, with views for hundreds of miles in all directions. Following another summit celebration, we'll continue off-trail down the other side to Laguna del Otun at 12,800' for camp.
January 30 — Hike four hours on a good trail across the Paramo, with its unusual flora and fauna, and down to the park entrance at Potosi. Then drive four hours out of the mountains to the town of Salento and check into our hotel. Salento is a colorful town with classic wooden architecture set in the warm fresh air of the Colombian coffee region. Coffee farms fill the landscape. Dinner at a fine restaurant.
January 31 — Fly back to Bogota and connect on to San Jose' de Guaviare' in the steamy low-lands. With local naturalist Marcel we'll stroll through the nearby forest looking for endemic birds. Dinner at the Amazonian Restaurant. Overnight at the finest hotel in town.
The Guaviare is a region little known and little visited by outsiders. It occupies the divide between the Amazon and the Oronoco Rivers in the vast south-eastern lowlands, making it geographically important in historic and pre-historic times. The native old-growth tropical forest is rich in habitat for unique flora and fauna, which we will explore in detail by riverboat, road and on foot. Thousands of ancient pictographs were recently discovered in caves and on rock walls in this region, featuring fish, mammals, plants, people and rivers. We'll hike up to several of them to ponder the past. The artists are still largely uncertain, lost in the fog of time and remoteness, although it's thought that the indigenous Nukak Maku tribe living in the area now are the descendants of the original artists.
February 1 — Traveling light, we walk to the boat dock and board a giant motorized canoe, made from a single tree. An hour upstream we arrive at the indigenous village of Raudal, where we'll hang out with the locals and spend the night in basic but clean and comfortable bungalows. In the afternoon we'll motor fifteen minutes upstream, then hike twenty minutes to a nearby tepui (table-top mountain) to view pictographs painted up to twelve thousand years ago.
February 2 — With another early start we'll drive a short distance then hike two hours to Cerro Azul to see thousands of pictographs said to be thousands of years old. Few people and almost no foreigners have come here. With a local expert speaking her indigenous language, through a translator we'll learn the significance of this evocative place. Return to San Jose' de Guaviare for dinner and overnight.
February 3 — Fly back to Bogota and prepare for our evening flights home.
Optional: Those who wish may fly on to Cartagena to explore that historic city on the Caribbean. Arriving later in the afternoon, you'll check into our hotel in the middle of the Old Town. Cartagena is a beautiful and well-preserved colonial city and a World Heritage Site. It was Spain's primary port during the early years of the Conquest. Evening on the town.
February 4 — A full day to explore the sights and sounds of Old Town Cartagena. We'll wander about the narrow streets. We'll visit Las Murallas, the thick defensive walls constructed over two centuries by the Spanish. We'll marvel at the well-preserved colonial architecture. We'll sample street food and street music, museums and monasteries and mansions, palaces, plazas, and cathedrals.
February 5 — Morning flights directly home to the USA.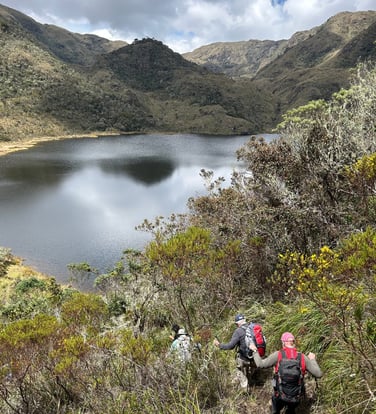 Colombia Itinerary and Accommodations
January 20 — Arrive Bogota, Colombia's capital. We'll meet you at the airport and transfer to our hotel in the city's cultural epicenter, La Candelaria. Dinner on your own at the hotel.
January 21 — Bogota is an engaging and vibrant capital cradled by chilly Andean peaks and steeped in sophisticated urban cool. Well preserved colonial buildings house museums, hotels, restaurants, and bars, peppered among 300-year-old houses and churches. Today we'll visit the Gold Museum, stuffed with priceless items dating to the time of the Incas. We'll visit the Museo Botero, the famous homage to all things chubby and humorous. We'll summit 10,330' Cerro de Monserrate aboard the cable car for views out over the Andes and across the Bogota Valley.
January 22 — With an early start we'll drive six hours out of the valley to the west, over high passes, and into the heart of the Parque Nacional Los Nevados, a range of volcanos in the Central Andes. We'll traverse forest and plain, and ultimately climb into the mountains. Overnight and dinner in Palomar at a comfortable mountain lodge at 8000'.
Colombia Travel Details
January 20 – February 4, 2024
TRIP SIZE: Up to 10 Members
TRIP COST: $10,550
A DEPOSIT: $4,000 should be sent immediately to hold your place. Non-refundable. Fully insurable. Please see below.
FINAL PAYMENT: $6,550 will be due October 1, 2023. Non-refundable.
TRIP INCLUDES: All lodging in Colombia on a twin-sharing basis including farm stays and tents on trek; guides, cooks and pack animals on trek; all services in the Guaviare according to the itinerary; all meals from breakfast on January 21 to breakfast on February 4; all airport transfers; entrance fees.
NOT INCLUDED: International airfare; airport taxes; tips; personal items; bottled drinks; alcohol; insurance; costs accrued from deviations from the itinerary.
INSURANCE: We require Trip Cancellation Insurance, as no refunds can be given. Call DeeDee at Big Sky Travel for all your options. 406-777-6934
AIRFARE: Contact DeeDee at Big Sky Travel for the best rates. 406-777-6934.
EQUIPMENT: A full equipment list will be sent to you on receipt of deposit.
VISAS: Visas are obtained on entry into Colombia with a valid passport