Our Clients Share Their Thoughts: Reviews & Testimonials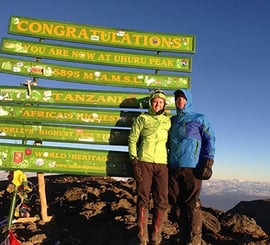 "We can't thank you enough putting together and planning our Africation :) We are still pinching ourselves in disbelief. Everything went without a hitch! We felt completely safe from our arrival till departure. Our guides were THE BEST! We wouldn't have changed a thing. Thank you for everything, and we'll definitely contact you for our next adventure."
- Leigh & Josh Paschke; Hendersonville, NC
"
Skip took me into the jungle, and brought me back alive. He's a real outdoorsman, he gets the job done."
- David Lee Roth, Rock Star
"You've led me to some of the defining moments of my life, and it's been a hell of a good time."
- Russ Lawrence - Entrepreneur, Hamilton, Montana
"We can't thank you enough for your leadership and friendship during our amazing 2014 Mongolia expedition. Your knowledge and experience in climbing, which is vast, was only outdone by your wisdom, judgment and human understanding. We will treasure our time together for a long time."
- Greg Avis, Investment banker, Palo Alto, CA
"Skip is the best guide in the world."
- Glen Porzak (Former president of the American Alpine Club)
"Skip Horner is the finest guide I know of. I'd go anywhere with him, especially into the mountains. He's thorough, and thoughtful."
- Steve Fossett (Adventurer)
"A strong America means a strong Saudi Arabia, and what Skip Horner is doing inspires Americans to greatness. I fully support his project."
- Prince Bandar bin Sultan (Former Ambassador to the US from Saudi Arabia)
"If I went back to Everest, I'd have Skip Horner carry me."
- Tom Hornbein (On first ascent of the West Ridge of Mt Everest)
"For three decades, Skip, with his charismatic and inspirational character, has allowed me to safely see and touch much of our planet."
- Mel Wichter, MD (Professor of Clinical Neurology, U.I. Chicago College of Medicine)