Springtime in Nepal is spelled l-o-v-e. The air is warm and humid. The sky is clear blue in the mornings with puffy clouds floating through the high peaks in the afternoons. Rhododendron forests spread their bright floral beauty over the middle hills where we will trek, with aromatic daphne flowers filling the air with sweetness. Myriad wildflowers carpet forest floors and alpine tundra, while birds sporting their mating plumage sing for their mates.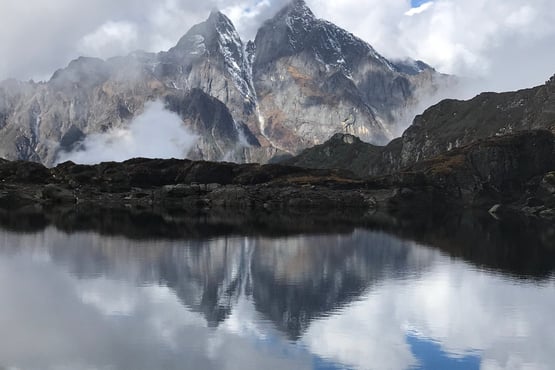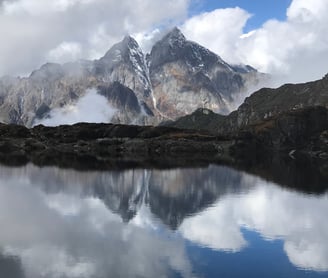 We enter a new realm of existence filled with the beauty and romance of deep forest and alpine splendor. Punctuating our remote trails are scattered isolated villages whose people continue living the agricultural life of their ancestors.
We will trek for 15 days through the Jugal Himal, visible in the distance above Kathmandu, but worlds away in atmosphere. Giant 7000-meter peaks such as Dorje Lakpa and Chobo Bhamare that challenge alpinists offer the stunning backdrop to our every day on the trail. Unlike other mountain areas of Nepal that see hundreds of trekkers, the Jugal is little known to the outside world. Only a few pilgrims visiting its holy lakes make their way into this little-known region.
Trekking our new, recently scouted approach to this magical mountain kingdom, we could be the only foreign travelers into this antique land. We'll travel with a full retinue of first-class sherpas, porters and cooks who will look after us in grand style. Leading the group will be Skip Horner, celebrating his 50th year of guiding treks and climbs in the Nepal Himalaya. All in all this will be a once-in-a-lifetime experience.
Jugal Himal Itinerary and Accommodations
Day 1 — Arrive Kathmandu, Nepal. You'll be met at the airport by our agent and transferred to the famous Yak & Yeti Hotel. Remainder of day at leisure. Group dinner at a local restaurant.
Day 2 — In Kathmandu, with a half-day tour of some of its unusual World Heritage Sites, accompanied by a professional local guide. Group dinner.
Day 3 — After breakfast, depart for a scenic overland journey of 6 hours, leaving the Kathmandu Valley and heading up into the hills. Our camp will be set up for us at Thulo Bhotang at 8500'.
Day 4 — Our first day of trekking takes us up through forests of pine and flowering rhododendron trees. We'll pass through villages and yak pastures and after 6 hours we'll arrive at Nosyampati for camp at 12,000' in the deep forest.
Day 5 — We'll take a layover acclimatization day here at Nosyampati, with a short hike to a viewpoint to see the high peaks further into the Jugal Himal. Villagers living nearby will pass through and visit with us.
Day 6 — Today will be a shorter hike up to 13,200' at Panch Pokhari, the 'Five Shimmering Ponds' that are a site of pilgrimage for many Hindus and Buddhists. It is said that a bath in these ponds cleanses all sins, while ridding bad omens for a hundred lifetimes.
Day 7 — Climb 1000' to an outstanding ridgetop view of the high peaks of the Jugal Himal, then descend 2200' to camp at Nema-Gchukpa Kharka. 5 hours of trekking with tremendous mountain views.
Day 8 — We'll climb up through thick rhododendron forest to a high ridge with views into the Langtang mountains to the west, then descend to a bridge that leads across a cold swift stream to camp at Chhendang, at 8500'. 5 hours.
Day 9 — Today we'll climb a narrow rocky trail that leads to meditation caves used by Buddhist monks. Then we'll descend to a creek crossing and camp at Ne Pemasal, at 11,500'. 6 hours.
Day 10 — A long but moderate climb of 5 hours up and down through the forest and out onto the alpine area with mountain vistas along the way. Camp at Gyap Kharka, a summer grazing meadow, at 14,400'.
Day 11 — A short walk among the glacial moraines leads us to Jugal Himal Base Camp at 15, 400', where we have lunch and overnight. Peaks tower all around. In the afternoon we'll hike to a highpoint for vast vistas of the mountains of the Jugal Himal.
Day 12 — By a different route following the river downstream we return to Ne Pemasal for camp. 5 hours.
Day 13 — Heading off in a more easterly direction, well off the beaten track, we trek among the moraines and glaciers of this remote Himalayan reserve. After 6 hours reach the yak pasture of Ne Kharka, at 13,900'.
Day 14 — A pleasant 5-hour ramble through wild alpine country peppered with glacial lakes and big views of the mountains leads us to camp at Jumle Pokhari, 13,800'.
Day 15 — Another 5-hour high-country ramble among glacial lakes and moraines leads to Bhairab Kunda, 13,500', a lake holy to Hindu pilgrims for its representation of Lord Shiva. Another opportunity to bathe away our sins.
Day 16 — We begin our downhill return dropping into the rhododendron and pine forests as the trail winds among scattered settlements to Thulo Dunga at 11,500'. 6 hours.
Day 17 — A short 2-hour hike brings us to Kyangsing village, the end of our trek. Our vehicles meet us there for the 6 hour drive back to Kathmandu. Check into the Yak & Yeti Hotel. Dinner on the town.
Day 18 — Free day in Kathmandu, followed by evening flights home.
Jugal Himal Details
TRIP DATES: April 2-19, 2024
TRIP SIZE: 4 - 10 Members
LAND COST: $8,750 per person
A DEPOSIT $2,500 is due immediately to hold your place. Non-refundable, but insurable.
FINAL PAYMENT of Land Cost--$6,250--will be due December 1, 2023. Non-refundable, but insurable.
TRIP INCLUDES: All land costs in Nepal according to this itinerary, including private hotel rooms, breakfasts & dinners in Kathmandu; full trek staff of Sherpas, cooks & porters; all meals on trek; group camping gear; private tents, transportation within Nepal, and the services of long-time Himalayan guide Skip Horner.
NOT INCLUDED: International airfare, airport taxes, personal equipment, tips, insurance, overweight baggage charges, lunches in Kathmandu, Covid tests, additional charges accrued in transit or from any deviations from the itinerary.
INSURANCE:
We require Trip Cancellation Insurance, as no refunds can be given.
We also require Medical Evacuation Insurance.
DeeDee at Big Sky Travel can explain all the options available. 1-406-777-6934.
HEALTH:
All members must be fully Covid-19 vaccinated, and boosted. No exceptions.
A negative Covid test may be required for entry into Nepal. More details on this will be available closer to departure.
No specific inoculations are required for entry into Nepal, but several might be recommended for you.
Refer to www.cdc.gov/travel for a complete discussion of health issues for this trip.
AIRFARE: Please contact DeeDee at Big Sky Travel for the best rates and service. 1-406-777-6934.
QUALIFICATIONS:
This is a strenuous but non-technical trek at moderate altitudes. Conditions could be demanding for foul weather, trail conditions, and exposure to moderate altitudes. All participants must be in top physical and mental condition.
Cancellation and Refund Policy
Deposits are nonrefundable, but fully insurable.

We require trip cancellation insurance, as no refunds can be given.

Please contact DeeDee at Big Sky Travel for all your options: 1-406-777-6934.

We cannot vary from our stated policy regardless of your situation.