Ecuador: The Amazon & the Galapagos
Ecuador is the smallest Andean nation, but one of the most diverse and exciting. From the rainforests of the Amazon, to the highlands of the Andes, to the biodiversity of the Galapagos Islands far out in the Pacific, it packs in an amazing amount of adventure.
We'll venture deep into the Amazon Basin, to the Napo Wildlife Center in the heart of Yasuni Biosphere Reserve, the largest tract of tropical rain forest in Ecuador. For four days we'll hike and paddle deep into the jungle for up-close encounters with the unique flora and fauna. Professional local guides will lead each days' venture to identify and interpret the bewildering array of life-forms. Nights will be spent in private thatch and stucco bungalow cottages, and meals will be prepared by a fine chef. This is luxury in the heart of the jungle.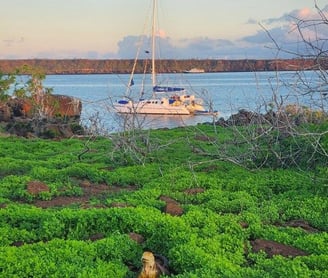 Three times we'll stay at the Airport Wyndham Hotel in Quito, the capital of Ecuador. We'll sample the city's old colonial charm, its unique cuisine, and its Andean vistas.
· Paddle canoes through Amazon rainforest rivers in search of wildlife.
· Hike trails deep in the rainforest & climb high into the canopy with a naturalist guide.
· Visit clay-licks frequented by hundreds of colorful macaws and parrots.
· Sleep to the exotic sounds of the jungle.
· Partake of the old-world charm and cuisine of Quito.
· Cruise the Galapagos in a fully staffed luxury sailing catamaran, with an onboard naturalist.
· Sea-kayak and swim in the clear Pacific with penguins, sea-lions, & sea turtles
· Hike with tortoises, iguanas, and dozens of unique bird species.
· Sleep to the gentle roll of the sea in the comfort of your private stateroom.
Then we'll fly to the Galapagos Islands to embark on a 7-day cruise on our 72' luxury private charter sailing catamaran, the Nemo II, where each couple has their own en suite stateroom. We'll cruise from island to island, hiking, paddling and snorkeling into this extraordinary reserve. Again, we'll always be accompanied by a local professional guide, who will identify and interpret this archipelago of worldwide fame. Sea-kayaks are available on board, as is snorkeling gear, and scuba-diving is also possible for those with PADI certification. A prize-winning chef will prepare all meals. Life aboard our private yacht will be exciting and very comfortable.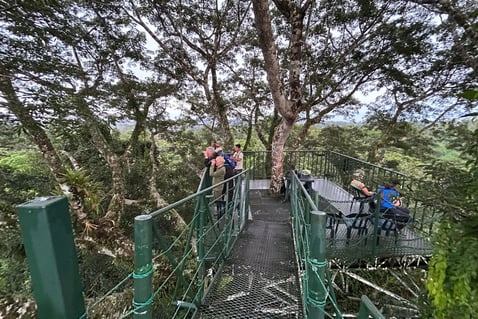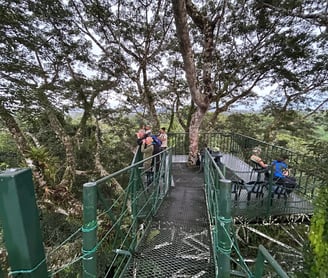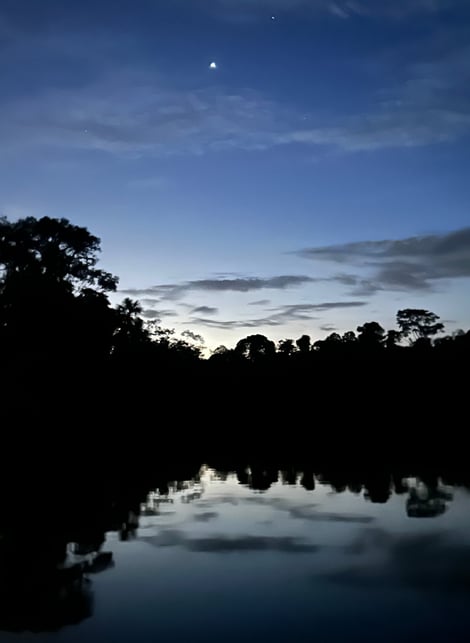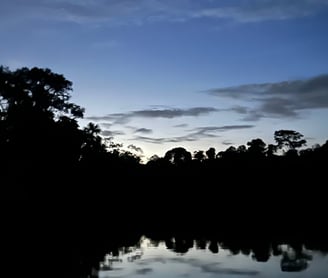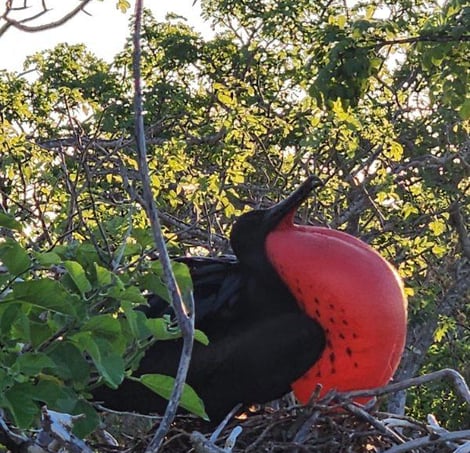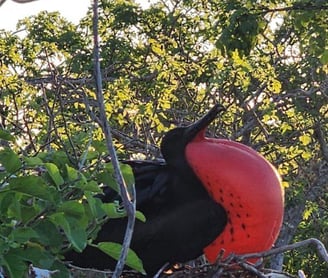 Ecuador Itinerary and Accommodations
Nov 25 — Arrive Quito late in the day. You'll be met on arrival by our agent and transferred to the Airport Wyndham Hotel.
Nov 26 — After breakfast, depart for a half-day tour of Old Quito, a colonial masterpiece. Return to the hotel late in the afternoon. Group dinner at the hotel.
Nov 27-28-29 — Following an early breakfast, we'll transfer to the airport for our flight to the town of Coca in the Amazon headwaters. Ride a motor-launch two hours down the sprawling Napo River, then paddle up a small tributary river in an indigenous canoe to Napo Wildlife Center. For four days we'll explore the area on foot, by boat, and from the canopy platforms high in the trees. A web of walking trails spiders out from the lodge, giving access to some of the most remote areas in the Amazon. By dugout canoe we'll paddle quiet shaded creeks and a large lake in search of wildlife, including caiman, anacondas, piranha, river otters, and the infamous stinky turkey. We'll visit two clay licks that attract dozens of brightly colored macaws, parakeets, and parrotlets. We'll climb a tower constructed adjacent to a giant kapok tree in the midst of the forest that offers close-up inspection of all the levels of life in the tree canopy. We can also visit the nearby indigenous community, where people stil live by traditional means. Our lodge is located right on the lake. All outings will be accompanied by a knowledgeable local guide. Each of 10 luxury cabanas is built with local traditional architecture with full modern amenities inside, and with a private porch with lake and forest views. Wildlife seen in the area include jaguar, puma, tapir, giant anteater, armadillo, capybara, three-toed sloths, many species of monkeys, and hundreds of species of birds.
Nov 30 — After breakfast return via dugout and motor-launch to the airport at Coca for our flight to Quito. Afternoon and evening free to explore Quito and the highlands area on your own.
December 1 — Catch a morning flight to Baltra airport in the Galapagos. Transfer to Nemo II, our chartered sailing catamaran, home for the next 7 days.
The Galapagos were made famous by Darwin's voyage, and they retain their mystique to this day with myriad species of wildlife utterly unafraid of human approach. Here we can swim with sea lions, float eye-to-eye with penguins, stand next to blue-footed boobies, and watch 500lb tortoises lumbering through a cactus forest. Galapagos is one of the finest places on earth for up-close nature photography in an unspoiled setting. We'll cruise to a different island each day to hike all around while learning and photographing their unique flora, fauna and natural history. Access to shore is by Zodiac. Our professional live-aboard naturalist will accompany each hike. The Nemo II, 72' long and 33' wide, provides 7 comfortable double cabins each with private bathroom and hot water. It has a spacious lounge and dining area, multiple sundecks, and great service from the crew of 6. It's also equipped with snorkeling gear, wetsuits, sea-kayaks and paddle boards, activities that are available at almost every stop on the itinerary. Scuba diving can be arranged through outside outfitters. Some of the finest wildlife viewing is underwater here, including ubiquitous sea lions, penguins, sea turtles, rays, iguanas, and billions of fish, most of which are close to the surface and easily visible. Dolphins and whales often accompany our passages back & forth across the Equator. Sunsets and sunrises are exquisite.
Dec 1 — Cruise to Bachas Beach on nearby Santa Cruz Island where we'll walk on the beach among the sea lions and snorkel the clear waters.
Dec 2 — Leaving before dawn we'll cruise north across the Equator, possibly accompanied by dolphins and pilot whales. Arrive at Darwin Bay on Genovesa Island where we'll spend the morning walking the beach in search of rare Short-eared owls. Later we'll kayak, paddleboard and snorkel in the clear cold waters In the afternoon we'll cruise around Genovesa to El Barranco for more time in the water and on land.
Dec 3 — An overnight cruise back across the Equator will take us to Sullivan Bay on Santiago Island for more snorkeling. After lunch we'll cruise to Rabida Island to kayak and snorkel, or to hang out in the sun on deck.
Dec 4 — Cruise to Santa Cruz Island and drive into the highlands to walk among the giant tortoises in their natural setting. After lunch on Nemo II we'll walk to the Darwin Center to learn more about the history of the islands and the ongoing research conducted by scientists from all over the world.
Dec 5 — Starting early we'll embark on the long cruise to the west side of Isabella Island, the largest island in the archipelago. The Southern Cross is high in the pre-dawn sky. We'll stop to walk across intriguing lava beds left behind by a recent volcanic flow, then continue to Urbina Bay to snorkel and walk the beach with sea lions.
Dec 6 — Cruise further along the coast of Isabella to Tagus Cove, where we'll walk where Darwin famously walked. The sea-kayaking is excellent here, or snorkel with Flightless cormorants. Cross the channel to Espinoza Point on Fernandina Island to visit thousands of land iguanas on black lava rock.
Dec 7 — Cruise to Espumilla Beach on Santiago Island, then on to dramatic Buccaneer Cove with its towering volcanic walls. Excellent snorkeling here. After lunch we'll cruise on to Egas Port for a wet landing on the beach to walk into the interior, watching for Darwin finches and Frigatebirds.
Dec 8 — Cruise to Santa Cruz Island and say adios to our Nemo II crew. Drive across the island to Puerto Ayora, the largest town in the islands, the port in the middle of the Pacific, where we'll check into the Mar y Sol Hotel, on the water. Afternoon at leisure for shopping and people watching. Group dinner at a fine restaurant in town.
Dec 9 — Fly back to Quito, check into the Wyndham Airport Hotel, and prepare for flights home.
Ecuador Travel Details
November 25 – December 9, 2024
TRIP SIZE: 10 Members
TRIP COST: $13,200
SINGLE SUPPLEMENT: $3000
INTERNAL ECUADORIAN AIRFARE: $810
A DEPOSIT: $5000 should be sent immediately to hold your place.
Non-refundable. Fully insurable. Please see below.
FINAL PAYMENT: $8200 + $810 (plus single supplement, where applicable)
Due June 1, 2024. Non-refundable.
TRIP INCLUDES: All lodging in Ecuador on a twin-sharing basis, including aboard the catamaran Nemo II in the Galapagos; all meals from breakfast on November 26 to breakfast on December 9 (except as stipulated in the itinerary); all airport transfers; guides; ship's crew in the Galapagos, entrance fees.
NOT INCLUDED: International and domestic airfare; airport taxes; personal items; bottled drinks; alcohol; tips; insurance; costs accrued from deviations from the itinerary.
INSURANCE: We require Trip Cancellation Insurance, as no refunds can be given.
Call DeeDee at Big Sky Travel for all your options. 406-777-6934
AIRFARE: Contact DeeDee at Big Sky Travel for the best rates. 406-777-6934.
EQUIPMENT: A full equipment list will be sent to you on receipt of deposit
VISAS: Visas are obtained on entry into Ecuador with a valid passport.